You can control each light or group of lights, set their colors and how will they light, their brightness, frequency, and sequence. If creativity isn't your strong suit, then use one of the preloaded designs from the app and get in the spirit! It offers a wide variety of stunning effects and animations ready to be played and customized.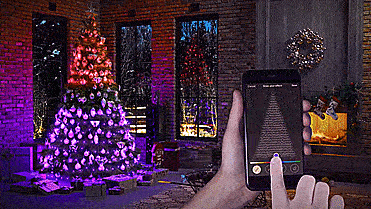 MULTICOLOR LIGHT EFFECTS – Create custom color-changing light displays with these app-controlled LED lights with more than 16 million colors
APP CONTROLLED – Use the App for iOS and Android to map the light strings, and create custom lighting displays. The multicolored smart lights instantly connect to Bluetooth or WiFi networks.
SMART LIGHTS WITH MUSIC SYNC – This is IOT ready! Sync your light decorations with your smart home for easy use; app-controlled lights are compatible with Alexa and Google Assistant. With the music sensor, you can sync Christmas lights with your favorite tunes.
CUSTOM DISPLAY & GROUP FEATURE – Download pre-loaded lighting effects or draw your own light display designs. Multiple string lights can be grouped in the app to perform as one extended decorative light.
FAST AND EASY SETUP – Connect instantly via Bluetooth and pair to your Wi-Fi network. The step-by-step guide helps you set-up and configure with ease!
WATERPROOF – With rated IP44 protection which makes them perfect for both indoor and outdoor use.